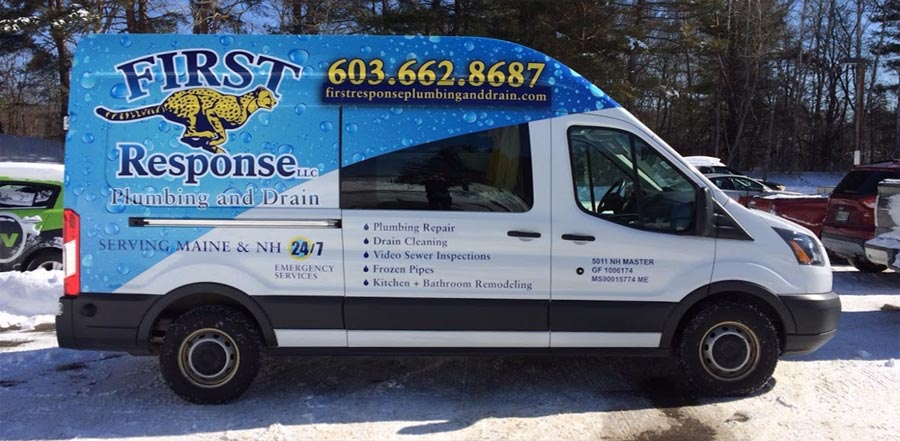 Choose First Response Plumbing and Drain in NH and ME
Hi my name is Frank, I am one of the owners at First Response Plumbing and Drain llc. I have been in the Plumbing industry for about fifteen years now in some area or another whether it was working in a plumbing supply house or working in the field doing new construction, modular homes, or service and repair work. I personally like the service and repair field for these reasons, I get to meet different people and work on something different and challenging that helps me to constantly learn and help people everyday.
I just wanted to take this time to give you a little inside information. There are many different contracting business's out there but in most part there are three different versions. New installation, service and repair, or a combination of both but through the years as either a supplier or a competitor to them I have seen them all.
I think it is important to know which version you are dealing with because knowing this is half the battle, for instance if you have a company that specializes in new construction most of the time but are now taking on service you may ask why. The reason for this in my experience is they are doing service at that time because they are having a slow period and if they were not they would be too busy to service you and the reasons this matters is 1, when you really need them they may not be there. 2, when they do your repair work they may be looking at it from the point of a new installer and not a service tech that would think about how to put it back together so if there was a future problem it would easier and less expensive to repair, 3, They usually don't have a fully stocked truck and this can lead to more trips to the supply house for an everyday part and that means added expense for you or if they did come out after hours they wouldn't have the part you needed. 4, They are taking work away from the service companies that have made a commitment to the community to be there when they need them and try to have the staff to take care of them. The service industry is on call 24/7 because you never know when an emergency call will come in so they have to be ready for anything to keep your water flowing, toilets flushing, your lines thawed out, or your heat running.
The service industry is a very expensive field to operate in when you look at all areas to truly do it right you need more – fully stocked vehicles,employees,equipment and software to keep the right tools and employees on the job and have things go smoothly. For example a new installation crew working on a new install could send one truck out and multiple personal vehicles out to the same job and multiple employees on the same job can work on different tasks for a full day,weeks or months at a time.
Service companies aren't so lucky this may happen occasionally if we were going to replace a heating system, had a whole house freeze up, or have to remodel a kitchen or bath but in most cases we are sending a man with a fully stocked truck and equipment out to rescue someone from a broken water main,clogged drain line, or maybe replacing the old toilet that leaks or doesn't flush properly and in these cases it usually doesn't take all day so you have down time before and in between jobs or maybe if it's an odd part that you don't have.
Training that most service technicians in the plumbing and heating industry have to go through just to do the job they have come to call a career.
1. four years of on the job training – 8,000 hours
2. four years of schooling and without one you can not do the other
This is for plumbing with test's that must be passed to progress to the next level.
The same training applies to oil and gas tech's granted the schooling may be a little different and on the job training has been reduced in some states but it still takes a lot not to mention the continuing education and new product seminars to learn about the new products and changes that are constantly coming out and this isn't a field you can just guess at putting it together and not read the directions because the design might have changed and if you did it wrong one or many people may die.
If you look at everything involved in what we have to do and know as plumbing and heating contractors. This is just a small example, there is much more involved! From septic systems,well pumps, water heaters, drainage systems, combustion systems, gas and oil, construction safety, people skills, etc.
The old saying isn't always true either that you get what you pay for because some people will charge you a fortune and still do either just the minimum or a hack job, for instance just because a product looks the same or is called the same thing doesn't mean it is the same thing or of equal quality it just means that they are in the same family or product line.
If you take a Brand name faucet from one of the big box stores and the same one from a plumbing supplier they will be of different quality because contractors know quality and have to have quality they can stand behind (if they are going to stand behind it) even then some suppliers carry lesser quality products than others and that's why it's best to let the contractors either purchase or guide you through the purchase of your products.
The only profession I could compare us to is the medical profession. They both have long hours constant training and peoples lives and lively hoods depend on us. A doctor would have to have a deadly disease with no cure to do as much damage as a plumber with a lack of knowledge could do.!!!!!